In diesem Jahr feiert die Spieleserie Tomb Raider 20-jähriges Jubiläum. Das erste Spiel erschien zuerst auf dem Sega Saturn am 25. Oktober 1996, kurz darauf folgte die Herausgabe für Playstation 1 und MS-DOS. 20 Jahre sind eine sehr beachtliche Zeit für ein Videospiel und wir haben allen Grund, mächtig zu feiern, denn Lara Croft ist dank unser aller Treue und Unterstützung nach wie vor nicht tot zu kriegen. Genau genommen gab es nur einen wirklich kritischen Moment und das war, als The Angel of Darkness schlechte Kritiken bekam und Core Design von Eidos durch eine neue Entwicklerfirma (Crystal Dynamics) ausgetauscht wurde. Seitdem ist Tomb Raider nicht mehr, was es einmal war, doch immerhin: Es existiert noch, Lara Croft existiert noch und weiterhin besteht die Möglichkeit, dass die Serie eine weitere Wendung nimmt.
Crystal Dynamics hat zu Ehren des Jubiläums mehrere Aktionen angestoßen, die uns über das Jahr verteilt auf Trab halten werden. Im Folgenden stellen wir euch laufende Projekte zum 20-jährigen Jubiläum von Tomb Raider vor, die eure besondere Aufmerksamkeit verdienen. Künftig wird jeder Artikel auf Lara's Generation, der mit dem 20-jährigen Jubiläum zusammenhängt, von folgendem offiziellen Logo begleitet: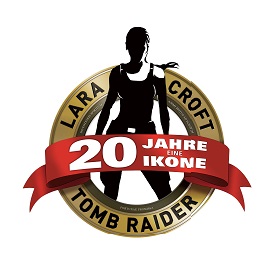 Auf Twitter, Facebook etc. findet ihr alle Postings zum Jubiläum unter dem Hashtag #tombraider20.
Übrigens: Hast du einen Beitrag zu Ehren von Tomb Raider zum zwanzigsten Jubiläum? Ein Artwork oder ein größeres Projekt, was du gerne hier vorstellen würdest? Dann melde dich über unser Kontaktformular.
There comes a time when the franchise is no longer Crystal Dynamic's or Core's or Square Enix' or Eidos' … Lara Croft and Tomb Raider belongs to the Fans.Meagan Marie
#TombRaider20 kickoff panel @ PAX East: Lara Croft: The Undisputed Queen of Gaming
Im Moment findet in Boston die große Spielemesse PAX East statt und Crystal Dynamics nutzt diese Gelegenheit, um die Festivitäten zum 20-jährigen Jubiläum hinaus in die Welt zu tragen. Fünf Leute haben sich am großen Tisch versammelt, um vor Publikum über das Thema "Lara Croft: Die unbestrittene Königin der Videospiele" zu plaudern. Es sprechen: Meagan Marie (Senior Community Managerin von Crystal Dynamics und Autorin des 20 Jahre Tomb Raider Buchs), Nathan McCree (Komponist für Tomb Raider 1-3), Alexa Ray Corriea (Redakteurin bei Gamespot), Kam Yu (Senior Character Artist bei Crystal Dynamics, d.h er ist unter anderem für das Ingame-Model verantwortlich) und Jason Botta (Design Director bei Crystal Dynamics). Der Live-Stream ist seit einigen Stunden vorbei, doch hier könnt ihr das Podium nachträglich anschauen: https://www.twitch.tv/pax2/v/62168702?t=08m29s
20 Jahre Tomb Raider Buch
Eine tolle Sache ist ein umfassendes Buch, was am 18. Oktober 2016 erscheinen soll. Ich hoffe das Cover und Logo wird tatsächlich noch geändert, doch rein inhaltlich kann es sich sehen lassen. Autorin ist unsere allseits bekannte Meagan Marie und dies ist die offizielle Beschreibung des Buchs:
Mit atemberaubenden Grafiken und erschöpfenden Kommentaren erforscht "20 Jahre Tomb Raider" die bahnbrechende, reichhaltige und vielfältige Geschichte dieser unverwechselbaren Videospielserie. Das beinhaltet…
Einblick in bisher unveröffentliche Bilder und Inhalte
Vollgepackt mit Informationen über die reichhaltige Tomb Raider Welt, die einzigartigen Charaktere, legendäre Fan-Gemeinde, und – natürlich – die Spiele mit denen all das begann (Lara's Generation bekommt auch ein Feature!)
Exklusive Interviews mit Core Design, Crystal Dynamics, offizielle Synchronsprecher/innen, Komponisten, Live Action Modellen, Comic-Künstlern und mehr.
Ein ausführlicher Einblick in alle bekannten Spiele, inklusive Erkenntnissen über unveröffentliche Titel.
Das gesamte Tomb Raider Universum wird abgedeckt – Spiele, Comics, Hollywood-Filme, Popkultur Einflüsse und die Fan-Gemeinde.
Ich bin sehr aufgeregt, dass Buch in Händen zu halten, denn so wie Meagan es auf der PAX East beschreibt, kommen auch Dinge rein, die selbst die allwissendsten Fans überraschen dürften.
The Tomb Raider Suite
Mein Lieblingsprojekt. Ich freue mich jetzt schon auf den Herbst diesen Jahres und plane auf ein Flugticket zu sparen um nach London zu fliegen. Warum? Der Komponist Nathan McCree, der die unglaubliche Musik zu Tomb Raider 1, 2 und 3 geschrieben hat, wird seine Musik von einem bekannten Londoner Orchester spielen lassen! Live und das Ganze wird in den Abbey Road Studios auch noch auf CD verewigt bzw. zum Download aufbereitet.
Da Video Games Live mich bisher enttäuscht hat bin ich nun voller Zuversicht, dass ich doch noch einmal die alten Tomb Raider Stücke live zu hören kriege. Bei den gespielten Stücken handelt es sich um die klassischen Kompositionen der ersten drei Spiele aber auch um Variationen und Erweiterungen. Das Konzert soll an einem großen Veranstaltungsort an einem Termin stattfinden, der mit dem Erscheinen des ersten Tomb Raider Spiels 1996 korrespondiert. Auf Twitter bestätigte Nathan McCree zudem, dass The Tomb Raider Suite auf Tour gehen soll – es ist also nicht unwahrscheinlich, dass es auch ein Konzert in Deutschland geben wird.
Das genaue Datum und der Ticketverkauf werden zu einem späteren Zeitpunkt bekannt gegeben.
Um das Ganze noch zu toppen: Der Regisseur Matthew Longfellow wird eine Video-on-Demand-Dokumentation mit dem Titel "Tomb Raider: Remastered" zu dem Konzert produzieren das die Entstehung der Musik und das Endergebnis porträtiert. Matthew hat sich bereits mit Musik-Dokumentationen für Pink Floyd, Metallica und Queen ein Namen gemacht!
Um auf dem Laufenden zu bleiben schaut weiter bei uns rein und/oder folgt Nathan auf seinem Twitter-Channel.
This is a wonderful opportunity for the fans, as well as me, to hear the music as I had always intended it.Nathan McCree
Tomb Raider Cover Gallery
Mit Hilfe zahlreicher Fans aus aller Welt konnte auf Flickr die größte Sammlung an Tomb Raider/Lara Croft Zeitschriften-Covers aus den letzten zwei Jahrzehnten zusammengetragen werden. Es macht Spaß darin zu schmökern, zumal auch die Qualität gut ist. Falls jemand von euch noch hochauflösende Scans hat, ladet diese auf eurem Flickr Account hoch und schickt eine Email mit dem Link an TombRaider20@crystald.com, alle Fans werden es euch danken!