Unfairerweise und doch zu Recht haben dieses Jahr vor allem Angehörige der großen britischen Insel was zu lachen: England besinnt sich dank dem Engagement großer Fans auf ein großes Erbe, die Erschaffung der berühmtesten weiblichen Videospielfigur aller Zeiten!
Ash, Webmaster von Tomb of Ash, ist ein Tomb Raider Superfan und ein großer Verehrer der Core Design Ära. Er ist mit den ehemaligen Angestellten von Core Design auf Du, trinkt mit dem ersten Lara Croft Model Kaffee, vertont seine Videos mit Lara Crofts Original-Synchronstimme und lässt die Community mit exklusiven Interviews und spannenden Hintergrundberichten daran teilhaben. Sein neuester Coup: Eine #tombraider20 Jubiläumsfeier auf der großen Spielemesse PLAY Expo in Manchester.
Die Messe findet am kommenden Wochenende (8.-9. Oktober 2016) in EventCity statt und wartet mit dem größten Tomb Raider Plenum aller Zeiten auf. Fans können in einem von Sky Sports™ eSports Kommentator Matt Andrews gehosteten Q&A Fragen an ehemalige Core Designer oder an Eidos Ex-CEO Ian Livingstone stellen. Seit der Schließung des Core Design Entwicklerstudios ist dies das erste und vielleicht letzte Mal, dass so viele Tomb Raider Größen zusammen kommen und aus dem Nähkästchen plaudern.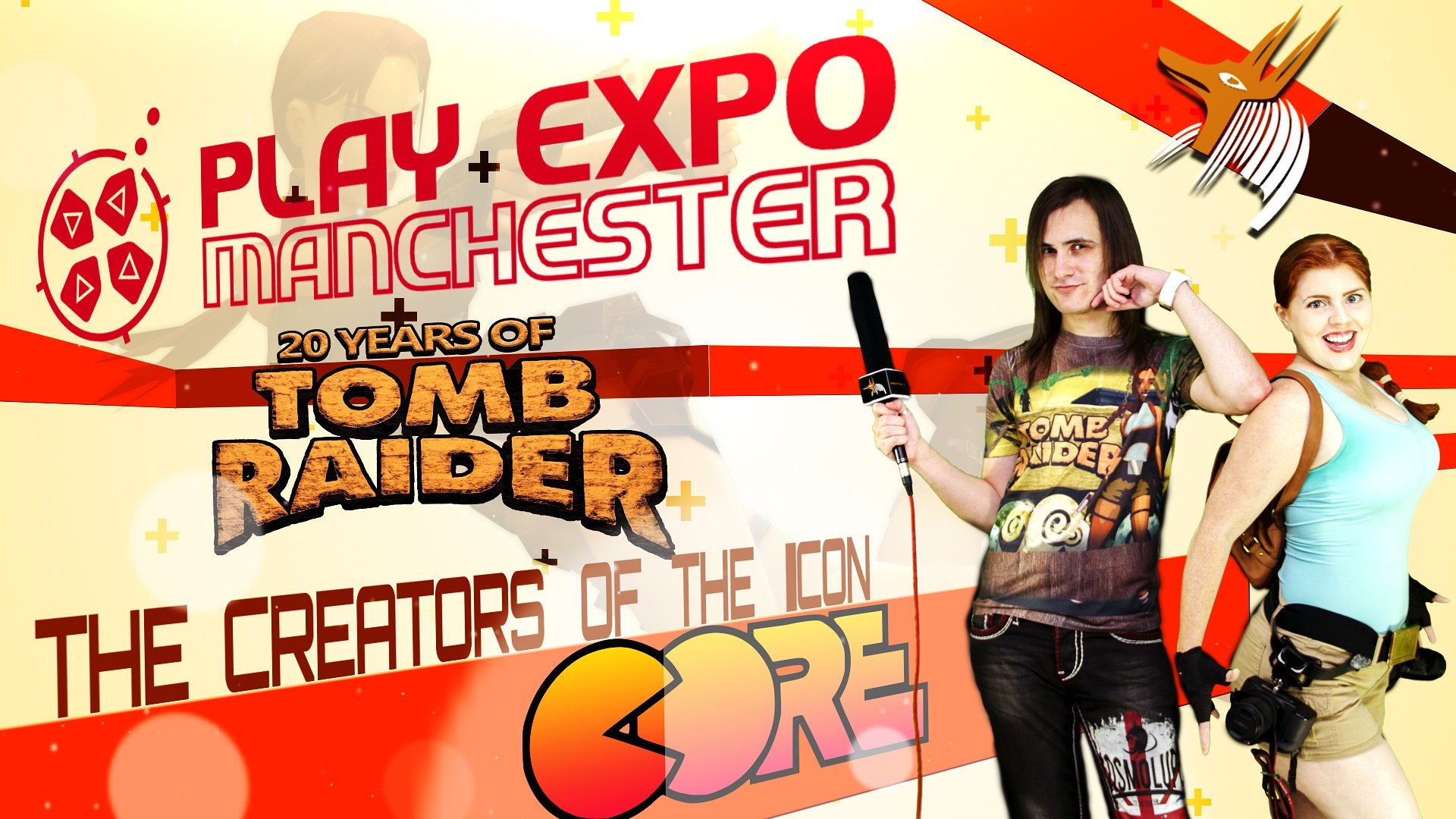 Core Design Star Line-Up auf der PLAY Expo Manchester
Ian Livingstone CBE: Ex-CEO von Eidos® Interactive
Jeremy Heath-Smith: Executive Producer und Co-Founder von Core® Design
Natalie Cook: Lara Croft™ model für Tomb Raider™
Richard Morton: Lead Game Designer / Level Designer / Environmental Artist für Tomb Raider II™ – Tomb Raider III™ – Tomb Raider: The Last Revelation™ – Tomb Raider: Die Chronik™ – Tomb Raider: The Angel of Darkness™
Gavin Rummery: Programmierer für Tomb Raider – Tomb Raider II – Tomb Raider: The Angel of Darkness / Head of Core Design
Heather Gibson: Level Designer für Tomb Raider / Tomb Raider II
Andy Sandham: Level Designer / Artist / Script Writer für Tomb Raider III – Tomb Raider: The Last Revelation – Tomb Raider: Die Chronik
Murti Schofield: Lead Writer / Casting für Tomb Raider: The Angel of Darkness
Nathan McCree: Komponist für Tomb Raider – Tomb Raider II – Tomb Raider III
Stuart Atkinson: Artist / Animator für Tomb Raider – Tomb Raider II
James Kenny: Concept / Environmental Artist für Tomb Raider: The Angel of Darkness
Die schlechte Nachricht
Die schlechte Nachricht: Wir (und vermutlich auch ihr?) werden nicht dabei sein. Eine Schande, eine verpasste Chance, die nie nachgeholt werden kann. Wir verpassen nicht nur unzählige Autogramm- und Interviewmöglichkeiten sondern auch die Sammlung der seltensten Tomb Raider Sammlerstücke und natürlich Tomb Raider 1 bis Rise of the Tomb Raider zocken bis zum Abwinken. Darüber hinaus werden wir keinen Blick auf Natalie Cook, das erste Lara Croft Model, erhaschen können, die in voller Croft Montur für Fotos mit Fans bereitstehen wird. Das Foto erhält man sogar als hochwertigen 6 x 9 Druck und Natalie ist zudem Gast-Juror bei der PLAY Cosplay Masquerade.
Die gute Nachricht
Noch ist nicht aller Tage Abend! Ihr habt folgende Optionen:
Ein Last-Minute-Ticket nach Manchester
Wir entscheiden uns für Option C und D. Für vielbeschäftigte Raiders gibt es noch die Option E: Ash wird alle interessanten Events für euch filmen und nach der Messe bereit stellen. So verpasst ihr nichts und könnt selbst entscheiden, wann ihr euch die völle Dröhnung Tomb Raider Sentimentalität gebt (am besten beim Frühstück zu einem schönen Toast mit Bohnen, dazu eine Tasse Tee).
Das #tombraider20 Programm
(wichtig für den Live-Stream!)
Samstag
14:00 Guest Talk: Ian Livingstone – "Life is a Game"
16:00 Tomb Raider 20th Anniversary Panel Talk
16:30 PLAY Cosplay Masquerade mit Natalie Cook
Sonntag
13:00 Interview: Nathan McCree, Composer & Audio Designer
16:30 PLAY Cosplay Masquerade mit Natalie Cook
Folge Tomb of Ash
Um zu erfahren, wo genau der Stream zu sehen ist, folgt bitte Tomb of Ash auf Tumblr, Twitter oder Facebook! Hier die Links:
BONUS: Jubiläumsparty in Laras Geburtsort, Derby!
Nur durch Zufall habe ich entdeckt, dass ein Kulturzentrum namens QUAD in Laras Heimatstadt Derby (wo sich das (ehemalige) Core Design Studio befindet) am 22. Oktober zu einem Event anläßlich #tombraider20 lädt: Ganze fünf Stunden kann nach Lust und Laune jeder Teil der Tomb Raider Serie gespielt werden, es wird eine große Sammlung von Tomb Raider Artikeln aus Derby zu bewundern sein und nicht zuletzt werden "Special Guests" versprochen. Der Eintritt ist frei und wir hoffen, dass jemand vor Ort Bericht erstatten wird! Um 18 Uhr gibt es dann noch eine Sondervorstellung "Lara Croft – Lethal and Loaded + Q&A". Gezeigt wird ein Dokumentarfilm namens "Lethal and Loaded" aus dem Jahr 2001 (pssst … hier auf Youtube) und im Anschluß stehen drei der Protagonisten für ein Q&A zur Verfügung:
Iain Simons – Game City/National Videogame Arcade
Alex Davis – Core Designs Developer for Angel of Darkness
Judith Gibbins – Voice of Lara Croft, Tomb Raider 2&3
Tomb Raider live in Concert
Du hast dich für Option C entschieden oder möchtest mehr darüber erfahren: Dann bitte hier entlang und sobald du Tickets gekauft hast melde dich doch bei uns im Forum, damit wir in London gemeinsam in Erinnerungen schwelgen können!