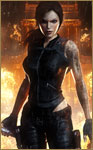 Übrigens: Wusstet ihr, dass es im Englischen das Wort Doppelganger gibt? Nunja, das nur nebenbei. Es geht natürlich um das böse Double von Lara Croft aus Tomb Raider Underworld, welches im DLC Lara's Shadow (Erscheinungsdatum: 10.03.2009) als neuer spielbarer Charakter dabei sein wird.
Auf der offiziellen Website heisst es dazu: "Setze deine einzigartigen "Schatten-Powers" ein, um deine Gegner mit brutalen Nahkampfattacken in die Knie zu zwingen und meistere dank deiner übermenschlichen Schnelligkeit Herausforderungen, denen Lara selbst nicht gewachsen wäre."
Weiterhin heisst es in einer Nachricht von Eidos: "Play as a dark and deadly reflection of Lara Croft. Created as a sinister trick by Lara's oldest foe, the Doppelganger possesses the strength, speed and raw power to put an end to the Croft lineage once and for all. Fulfill the mission and become the ultimate weapon of revenge.Will feature new gameplay mechanics to be unveiled very soon."("Spiele als ein finsteres und tödliches Ebenbild Laras. Von Laras ältester Feindin als böse Gegenspielerin erschaffen, besitzt die Doppelgängerin die Stärke, Schnelligkeit und Macht, um dem Croft-Geschlecht ein für allemal ein Ende zu setzen. Vollbringe die Mission und werde zur ultimativen Waffe der Vergeltung.") 
Zusätzlich zu dieser Hiobsbotschaft gibt es ein aufgewärmtes Renderbild der Doppelgängerin, welches zum einen als .PNG auf transparentem Hintergrund zu haben ist und zum anderen mit dem brennenden Croft Manor im Hintergrund. Hochauflösend, wie immer. Hier geht's zur Galerie.
> NEU: Wallpaper in allen gängigen Formaten als .ZIP downloaden