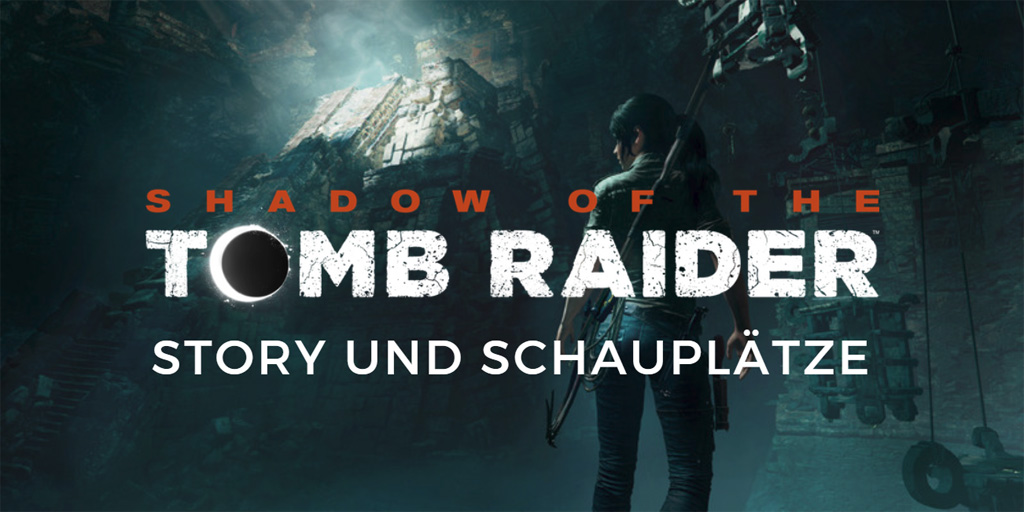 Shadow of the Tomb Raider erscheint am 14. September 2018 für PC, PlayStation 4 und XBox One. Bisher wurde ein Trailer aus gerenderten Sequenzen veröffentlicht (kein tatsächliches Gameplay) sowie einige Bilder und diverse Informationen zu der Story und den Schauplätzen, die uns im neuen Abenteuer mit Lara Croft erwarten.
Lara Croft wird endlich zum Tomb Raider — wirklich?
Shadow of the Tomb Raider ist der letzte Teil der Reboot Trilogie (Tomb Raider — Rise of the Tomb Raider — Shadow of the Tomb Raider) und es hieß seit Beginn, dass in dieser Trilogie Lara Crofts Entstehungsgeschichte, also ihre Persönlichkeitsentwicklung hin zur taffen Abenteurerin, erzählt werden soll. So war Lara im Reboot 2013 grade einmal 21 Jahre jung, hatte noch nie einen Menschen getötet und war auch deutlich emotionaler als die Lara Croft, die wir von früher kennen (bis einschließlich Tomb Raider Underworld). Die "originale" Lara Croft von 1996 hingegen war laut fiktivem Geburtsdatum 28 Jahre alt, sehr wortkarg, einzelgängerisch und cool wie James Bond. Wird Lara Croft also am Ende von Shadow of the Tomb Raider so sein wie damals 1996? Nein, es war immer klar dass Lara Croft nie mehr genauso werden würde wie früher und dies wurde auf dem Panel des Tribeca Film Festivals bestätigt: Die klassische Lara Croft kehrt nicht zurück. Dennoch wird sie härter sein, über mehr Skills verfügen (z.B. kann sie wieder den Wall Run) und die Hauptsache: Die Fortsetzung der Tomb Raider Serie wurde offiziell bestätigt.
Es beginnt in Cozumel, Mexiko
Cozumel ist eine kleine Insel nahe Cancun auf der Yucatan Peninsula, die in der Realität von Kreuzfahrtschiffen heimgesucht wird, also durchaus touristisch ist. Sie ist ein karibisches Paradies mit weißen Stränden und als Tauchparadies bekannt. Kein Wunder also, dass Tauchen in Shadow of the Tomb Raider eine Rolle spielen wird. Während Lara im Reboot gar nicht tauchen konnte und in Rise of the Tomb Raider nur nah an der Oberfläche, kann sie sich nun unter Wasser frei bewegen.
Was tut Lara in Cozumel, nur wenige Monate nach den Geschehnissen in Rise of the Tomb Raider? Sie ist hinter der Trinity Geheimorganisation her, um Rache zu nehmen (wir erinnern uns: In Rise of the Tomb Raider sieht man wie Trinity Laras Vater auf dem Gewissen hat). Ein Anführer von Trinity, Dr. Dominguez, leitet hier eine Ausgrabung, um ein mächtiges Artefakt der Maya zu finden. Die Maya bildeten eine präkolumbische Hochkultur in Zentralamerika, die vor allem für ihre Menschenopfer und ihre erstaunlichen astronomischen Fähigkeiten bekannt ist. Im Dickicht des Dschungels sind noch heute zahlreiche Tempel unerforscht und der Grund für den Untergang der Hochkultur ist bis heute nicht abschließend geklärt.
Lara Croft nutzt die bunte Menschenmenge am Tag der Toten in Cozumel um sich Dr. Dominguez heimlich zu nähern und die Gespräche zu belauschen. Mit dabei ist Jonah, ihr langjähriger Freund, der erstmals im Reboot als Teil der Endurance Crew auftrat. Er wird Lara im Laufe des Spiels immer wieder mit Rat und Tat zur Seite stehen; dies hat sie auch dringend nötig, denn Dr. Dominguez entpuppt sich als äußerst manipulativ und nachdem Lara Croft durch das Entwenden des Artefaktes den Weltuntergang auslöst und dann auch noch in einem Tsunami das Leben eines Junges nicht retten kann, ist es mit ihrer Standfestigkeit nicht mehr allzu gut bestellt.
Hauptdestination Peru
Der Großteil des Spiels spielt im Dschungel von Peru. Hier wird Lara sich im Schatten bewegen, das ganze Spiel ist auf Stealth ausgelegt. Sie kann sich mit Schlamm tarnen und tötet aus dem Verborgenen. Sie bewegt sich wie ein Jäger — und wird selbst gejagt. Von Trinity und Raubtieren. Es wird mehr Gräber geben als in den vorherigen Spielen und insgesamt verlagern sich Laras Bewegungen in die Vertikale: Sie wird steile Hänge hinaufklettern und die Ruinen bergen verzweigte Unterwassertunnel. Lara wird physisch alles abverlangt, da passt es nur, dass sie diesmal auch deutlich definiertere Muskeln hat.
Von Mel Gibson inspiriert?
Es wird düster und überaus mystisch in Shadow of the Tomb Raider! Das Logo des Spiels greift es bereits auf: Eine Sonnenfinsternis spielt eine Rolle, immerhin konnten die Maya diese vorhersagen (siehe Dresdner Kodex) und billigten ihnen einige Bedeutung zu. Dann haben wir da den als Maya Priester verkleideten Mann im Trailer, der offenbar drauf und dran ist, ein Ritual auszuführen (Dr. Dominguez höchst persönlich?). Die Maya Kalender waren zudem Anlaß für einige Menschen, an ein Ende der Welt im Jahr 2012 zu glauben und Mel Gibson fühlte sich 2006 dazu berufen, den Maya-Kult als blutrünstigen, religiösen Epos auf die Leinwand zu bringen. Geradezu verblüffend, wie sich die Inszenierung im Shadow of the Tomb Raider Trailer und dem Filmplakat von Apocalypto ähneln: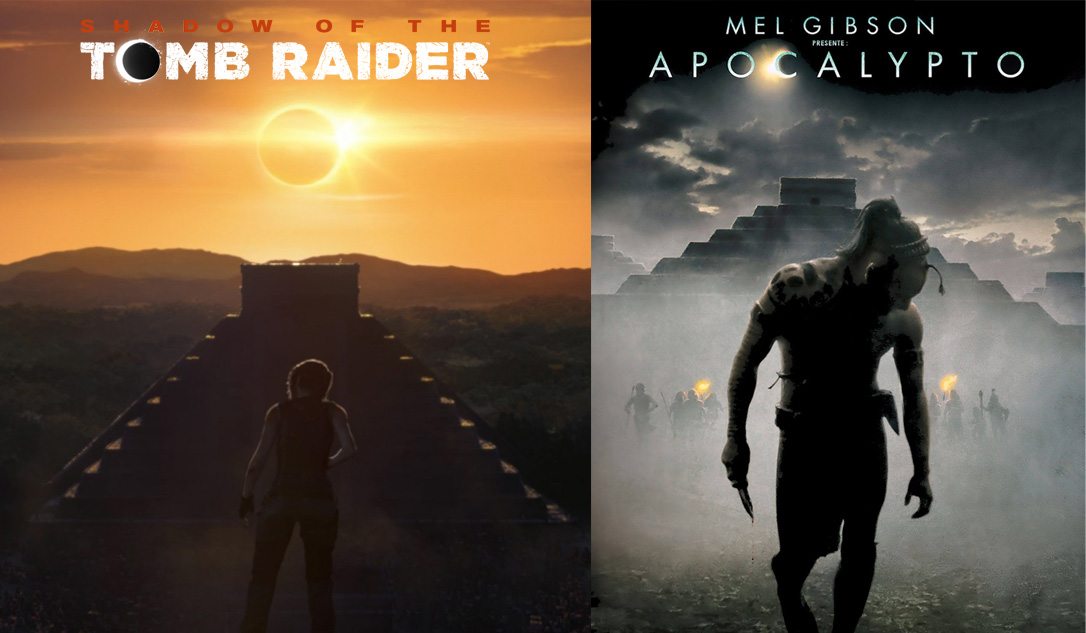 Zufall? Oder hat man sich zumindest bei diesem Shot und dem Logo etwas inspirieren lassen?
Das Tribeca Film Festival Panel zu Shadow of the Tomb Raider zum Nachschauen