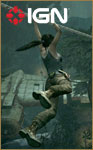 Übermorgen startet bei Imagine Games Network eine sechsteilige Serie von Tomb Raider Specials. Anlass: Es sind nur noch 3 MONATE bis zum Release am 5. März 2013 – also Zeit sich schlau zu machen ob die Vorbestellung lohnt.
Um euch einzustimmen möchten wir schon mal auf 12 neue Screenshots verweisen, die in unserer Galerie euren Besuch erwarten: Hier klicken!
Nun das Wochenprogramm bei IGN:
Samstag, 08.12. 03:00 Uhr
IGN bei den VGA Awards, live!
Bombastischer Start der Tomb Raider Woche mit einem brandneuen Trailer, vorgestellt bei den Video Game Awards (jetzt noch schnell für Tomb Raider abstimmen!). Nachtmenschen können sich das Ganze auch via Xbox oder auf spike.tv live anschauen.
Dienstag, 11.12. 02:30 Uhr
Tomb Raider Live Stream
Eine volle Stunde exklusiver Tomb Raider Ingame Eindrücke! Wer beim Facebook Gewinnspiel das große Los zieht, kann dann auch direkt eine halbe Stunde lang Crystal Dynamics mit Fragen löchern. Aber keine Sorge: Auch wer nicht mitreist wird die Antworten sicherlich zeitnah bei IGN zu hören bekommen.
Dienstag, 11.12.
Diskussionsstoff!
IGN analysiert den neuesten Trailer bis ins kleinste Detail.
Mittwoch, 12.12.
The Tombs of Tomb Raider
Die Frage der Fragen: Wo sind die Gräber? IGN sagt: Keine Sorge, es gibt sie. In einem Video-Walkthrough könnt ihr euch mit eigenen Augen davon überzeugen.
Donnerstag, 13.12.
Upgrading Lara Croft
Tomb Raider ist nicht nur Action und Adventure sondern enthält im Reboot auch Rollenspiel-Elemente. Ganz klar, es geht um Skills und das Verbessern von Gegenständen. Mehr dazu am Donnersday.
Freitag, 14.12.
Tools of Survival Trailer
Und es kommt wieder dicke! Ein nigel-nagel neuer exklusiver Trailer zeigt Laras Survival-Skills!