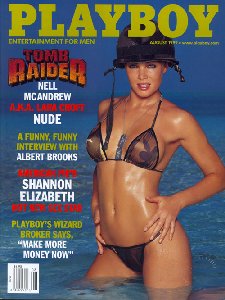 Time Digital zählte Lara Croft zu den 50 wichtigsten Personen des digitalen Zeitalters.
Das Details Magazin hat Lara Croft als eine der "Sexiest Women of the Year" bezeichnet.
Lara Croft wurde weltweit auf mehr als 500 Titelblättern abgebildet.
Der Merchandise zu Lara umfasst nicht nur zig Fanartikel, sondern auch Werbeaufträge (z.B. Seat, VISA, Lucozade).
Rund 10.000 Internet Seiten zum Thema Lara Croft kursieren bereits im Internet.
Ein Gerücht besagte, Tomb Raider 6 solle Lara im Mangastil zeigen.
Streitpunkt: Was ist das Geburtsjahr von Lara Croft? Die richtige Antwort, wie in offiziellen Berichten von Eidos Interactive zu lesen, ist 1968!
"Hold Me, Kill Me, Kiss Me, Thrill Me": Lara Croft erscheint auf einer riesigen Leinwand auf der "PopMart"-Tournee von U2.
Lara Croft wird in dem Film "Lara Croft: Tomb Raider" von der Oskarprämierten Schauspielerin Angelina Jolie gespielt.
Eine Weile erschien alle zwei Monate das Tomb Raider Comic, immer abwechselnd mit dem Zusatzcomic "Tomb Raider Journeys".
Warum ist Laras Oberweite so groß? Ganz klar, einem der Grafiker ist bei Tomb Raider 1 die Maus ausgerutscht an besagter Stelle. Dieser scherzhafte Ausspruch wurde von vielen für voll genommen.
Was geschah mit Lara Croft nach dem Unglück in Ägypten (Tomb Raider 4)? Die gängigste Spekulation war wohl, Lara sei von einer Art Ureinwohner aufgesammelt worden und habe sich dadurch zu einem Lebenswandel entschieden: Kein Bock mehr auf Archäologie!
Werners Brille in Tomb Raider 4: Wozu ist sie gut? Macht sie unsterblich? Gibt es dafür ein Bonuslevel? Ist es ein Bug? Oder wohlmöglich ein Fund, der nur den WAHREN Fans vorbehalten bleibt? Die Wahrheit ist: Die Brille ist zu rein gar nicht nütze.
CORNER BUG oder: Die Suche nach dem roten Teppich. Was wäre Tomb Raider ohne die "very special secrets"? Mehr dazu gibt's hier auf Volkers laraunlimited.de
Skandal: Lara Croft Model Nell McAndrew lässt sich im Playboy ablichten
Nude Raider: Gerüchte besagen, dass damals (1996) jemand innerhalb der Tomb Raider Entwickler Core Design den ersten Nude Raider Patch programmierte und diesen auf die Webseite des Publishers Eidos stellte. Allerdings sollte dieser Patch dort nur für wenige Stunden verbleiben, bis Eidos ihn wieder entfernte. Trotzdem haben sich viele Spieler den Patch runtergeladen und die Verbreitung nahm ihren Lauf. Die ersten beiden Patches (für Tomb Raider und Tomb Raider 2) wurden von "nude.raider@fx.fr" programmiert, französischer Herkunft. Patches für Tomb Raider 3 bis 5 wurden hingegen von Fans hergestellt ("BoobRaider"), amerikanischer Herkunft. Für Tomb Raider 6 (Angel Of Darkness) gab es nur Nudeskins.
Eidos sah dem Treiben mit einem weinenden und einen lachenden Auge zu: Einerseits förderten die Pachtes die Verkaufzahlen der Tomb Raider Spiele, andererseits sah der Publisher eine Verletzung der Urheberrechte. Im April 2004 ließ ein Insider von Eidos per Newsletter / Maillinglist verlauten, man habe angefangen, Abmahnungen an die Hoster der Nude Raider Patches zu verschicken. Man muss allerdings diese Berichte über Abmahnungen in Frage stellen, da es sehr wahrscheinlich ist, dass hier übertrieben wurde. Sicher ist, dass Eidos die Webseite www.nuderaider.com schließen ließ.
Quelle: wikipedia.de
Schlumpflevel: Laraweb.de führt Spieler an der Nase herum und berichtet von einem Bonuslevel in 'The Angel of Darkness', in dem Lara im Land der Schlümpfe Abenteuer besteht. Unglaublich: Nicht grade wenige erkundigten sich ernsthaft, wie denn dieses Bonuslevel freizuschalten sei.