Bild Lara mit Weihnachtsbaum © Shadowless
Alles muss raus! Naja nicht ganz, ich habe hier noch eine ganze Kiste voll mit Tomb Raider Goodies, aber einmal will ja der Anfang gemacht sein und welcher Anlass wäre besser als Weihnachten? Ich hoffe es gibt noch ein paar Tomb Raider Underworld Liebhaber unter euch, denn zwei Tomb Raider Underworld Artbooks suchen neue Besitzer, die sie zu schätzen wissen!
So kannst du ein Artbook gewinnen
☃ ❆ ☃ ❆ ☃ ❆ ☃ ❆ ☃ ❆ ☃ ❆ ☃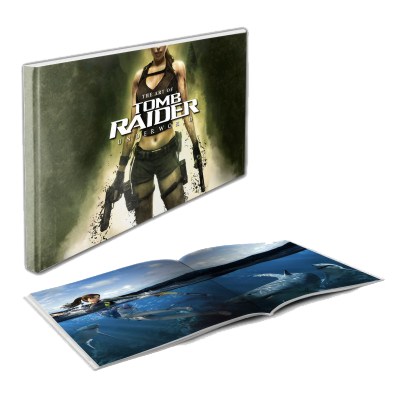 Hinterlasse einfach einen Kommentar und lass uns wissen, welche Lara Croft dir von allen am besten gefallen hat: Lara jetzt im neuen Rise of the Tomb Raider, in Tomb Raider Underworld oder in einem anderen Teil der Serie und natürlich warum!
Die beiden Gewinner werden am 3. Januar 2016 per Zufallsprinzip gezogen und dann per PN benachrichtigt (merke: Um zu kommentieren, musst du registriert sein). Also viel Glück aber vor allem: Euch allen schöne Feiertage und einen GUTEN RUTSCH!
Übrigens, nur um Mißverständnissen vorzubeugen: Es handelt sich bei dem Artbook um ein limitiertes, kleinformatiges Softcover-Büchlein mit allerlei Concept Art zum Spiel. Es hat nichts mit dem Sammelband "The Art of Tomb Raider" zutun.